I personally am a firm believer and a strong advocate of the phrase "doing things by the book", and I absolutely stand by this on a day-to-day basis.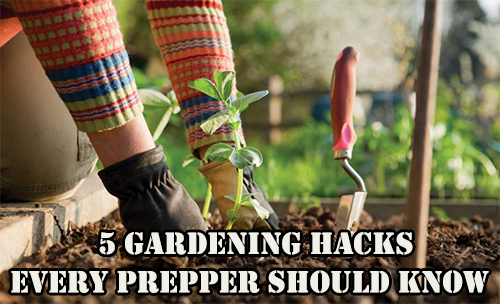 But going astray from what "the book" teaches isn't necessarily wrong by default; just because you take a different approach to doing things doesn't mean the outcome is going to be a disaster. If human beings only stuck to what they learned at the dawn of modern man, our society would still be based on cave dwelling and using only the raw resources that nature provides. But our inquisitive nature has driven us throughout the millennia to better ourselves and to always take different approaches to doing things – ergo progress. What I'm about to show you next are direct result of the "thinking outside the box" method, in the field of gardening. They are unorthodox gardening hacks, but they give great results. And remember: it's not stupid if it works.
The paper pot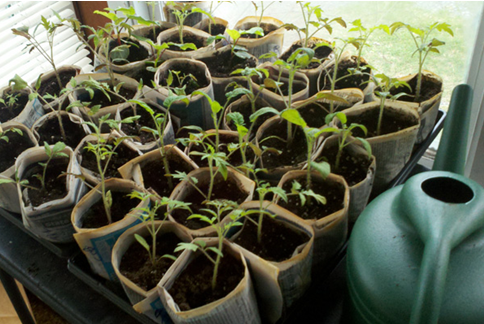 This is a very ingenious method of making small pots for small plants by reusing old newspapers or other paper products. The method is very eco-friendly, even in comparison with the regular plastic pots that are available on the market. And this is because of the prolonged decomposing timer for plastic; plastic takes hundreds and even thousands of years (depending on the type of plastic) to decompose in the soil, and  while doing so, the plastic compound will acts as a chemical poison on the soil, plants and even animals. If you want to keep your plants as healthy as possible, roll up your sleeves and start making your own paper pots. They can easily be made from any old newspapers you might have lying around and even from toilette paper rolls.
The citrus peel pot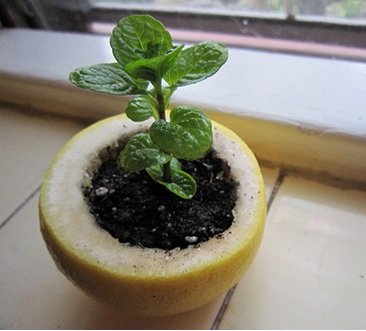 This probably the best starter pot for young plants that you can have. Just get your hands on a large enough fresh orange, lemon or grapefruit and cut it in half. Remove as much of the pulp as you can and fill the cavity with fresh soil and a plant of your choice. The minerals and vitamins contained in the remnants of the pulp as well as the peel will enrich the soil and give your seedlings a well deserved growth boost. This will develop the plants' roots in record time, making them as strong as possible for standard garden conditions. The citrus peel pot works just as well as a transition vessel for plants that are sensitive to cold; if temperatures drop, you can transplant them in the peel pot for as long as it takes. This method works best for plants that thrive in acid environments. If you want your citrus peel pot to stand up straight, you should carve or grate a flat surface on the bottom.
The diaper pot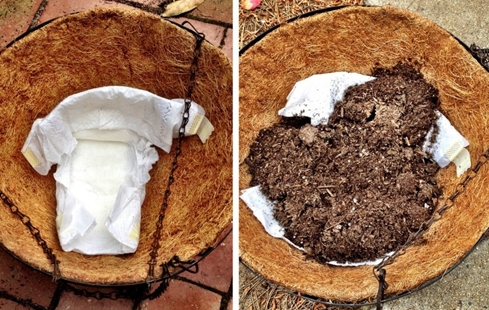 Don't be fooled by the title, this is not about turning a used diaper into a pot because that would be, well, horrible. This technique consists in making the best out of a used diaper instead of just throwing it away.  Place the diaper in a large enough pot or any other container, messy side up. Once you've done so, you can go ahead and cover the mess up with soil. Next plant whatever it is you want, as you normally would in any other pot. The plants that will live and develop here will benefit immensely by nutrients found in human waste. They nutritious content will be progressively and uniformly released in the soil, making your plants as healthy as possible; they'll also flower and blossom quicker.
The vegetable water infusion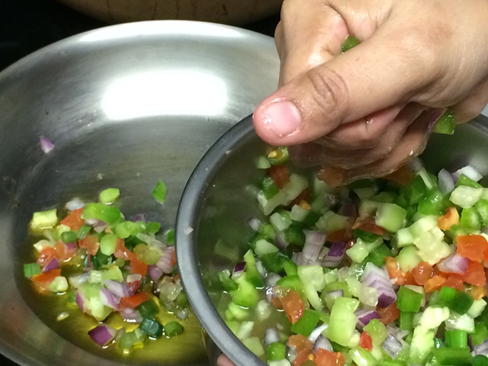 If you happen to be blanching or boiling some vegetables for who knows what and you have no further use for the remaining water, don't let it go down the drain for nothing. Instead of throwing it away you could be using it for watering your garden. There are relevant quantities of nutrients and minerals that are being released during boiling or blanching vegetables. The excess of nutrients and minerals will be very welcomed by whatever it is you're growing in your personal garden. Let the water cool at room temperature first. Once the temperature drops, either fill a watering can with the vegetable water or pour it on the soil directly from the pot. The nutritious cocktail will give provide your plants with all the energy they need.
Green thumb be gone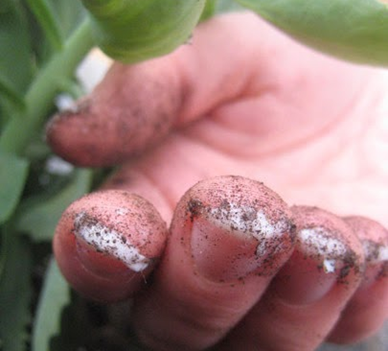 The first safety rule of working in the garden is to use a sturdy pair of gardening gloves at all times. But certain "surgical" procedure will require a delicate touch and the gloves will only be in the way. In order to avoid getting dirt and who knows what else under your finger nails, start of by digging your fingers into a bar of soap before doing any garden work. The soap that will stick under your nails will act as a physical barrier, preventing any dirt and germs from entering. The soup should stay in place for as long as you work in the garden. Once your job is done, remove the soap by simply washing your hands.
Although these gardening tricks might seem strange and far from what mainstream gardening is about, they work and give great results. Don't be afraid to stray every once in a while from the "right way" and experiment. You have very little to lose and so much to gain. Who knows, you might even stumble on a break-through alternative gardening method that will get you rich.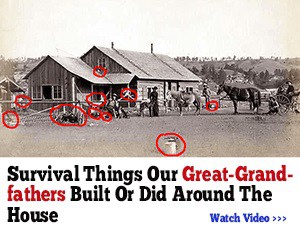 CHECK  OUR survival and prepping solutions
If you found this article useful, please like our Facebook page and stay up to date with the latest articles.
WHAT TO READ NEXT:
HOW TO MAKE YOUR OWN BACON (STEP BY STEP GUIDE)
A RETURN TO THE OLD PATHS: HOW TO MAKE PEMMICAN LIKE THE NATIVE AMERICANS
20 LOST RECIPES FROM THE PIONEERS: WHAT THEY COOKED ON THEIR JOURNEY WESTWARD
SEVEN CLASSIC GREAT DEPRESSION ERA RECIPES GRANDMA USED TO MAKE
POTTED MEAT: A LOST SKILL OF LONG TERM MEAT STORAGE
BACK TO BASICS: HOW TO MAKE AND PRESERVE LARD
THE BEST WAY TO STOCKPILE VEGETABLES OFF-GRID
OLD FASHIONED PRESERVING-GRANDPA'S RECIPE FOR CURED SMOKED HAM
HOW TO MAKE GUNPOWDER THE OLD FASHIONED WAY
SURVIVAL HERBAL RECIPES FROM OUR ANCESTORS
HOW TO PRESERVE MEAT FOR SURVIVAL LIKE OUR GRANDFATHERS
OTHER USEFUL RESOURCES:
The 3 Pioneer Survival Lessons We Should Learn
The Most Effective Home Defense Strategies
Old School Hacks for Off-Grid Living
The Medical Emergency Crash Course
The Smart, Easy Way to Food Independence