Having a handgun or two (or several in the case of guns enthusiasts) around the house is far from being a bad idea.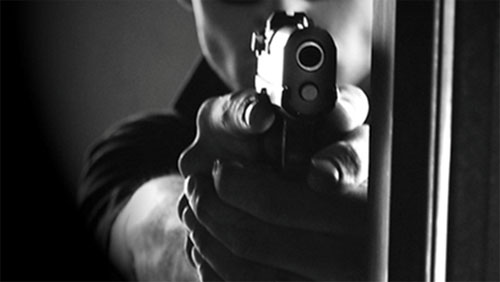 As long as you comply with safety rules and procedures, making sure a loaded gun doesn't fall by chance in the hands of your kids, there's no real reason not to keep as many guns as you like in YOUR house. Some people might not see the utility of keeping a firearm around the house, let alone several. But this was and still is a sought-after method, especially by people who live in bad neighborhoods. Having a gun strategically planted in key areas will give you the edge if you should ever find yourself under attack by evildoers. Placing a small pistol of firearm every here and there will allow you to react faster, rather than wasting time to retrieve your gun from the holster that's being kept in the upstairs bedroom. And no matter what anyone says, there's no greater protection in the face of such a life threatening situation than holding a loaded gun in your hands. Bad neighborhood or not, your house can be broken into at any moment, be it by burglars, rapists, terrorist, serial killers etc. When this happens, it's up to you to protect yourself, your family and your property. And this is a list of some of the best handguns capable of saving your skin.
The Glock 17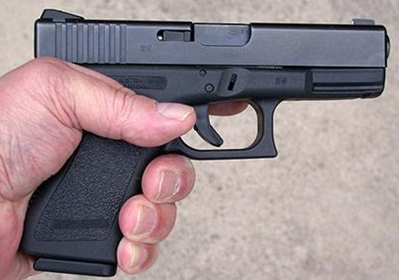 The Glock is one of the most trustworthy brands when it comes to shooting power. And the semi-automatic Glock 17 model lives up to the name. It has a small but sturdy polymer frame. The pistol I s produced in Austria and is very important to mention that it has been a favorite of the Austrian military since 1981. Despite the initial reluctance of gun owners to "plastic" handguns, the Glock has made its way admirably through these past decades, commanding 66% of the handguns used by the US law enforcement agencies, as well as many of their counterparts from all over the world. Because of their availability, affordability and reliability, Glocks are highly popular amongst civilians as well, especially for self-defense reasons or competition shooting.
The Taurus PT92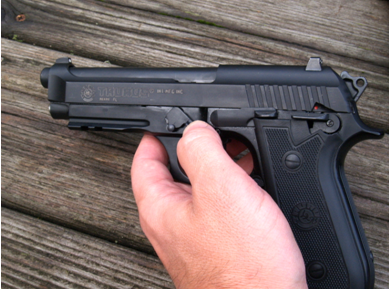 This is a semi-automatic, double stack magazine handgun that's being made by Taurus in the former Beretta factory in Brazil. It's a very reliable 9×19 millimeter and it utilizes a double slide design. The gun itself is a based on the previous model PT92, licensed under the name of Beretta. But the only difference between the Beretta 92 and the Taurus PT92 is only the name branded on the product. In all other aspects, the two are similar; they even look the same. It has a square trigger guard to support the index finger of the opposite hand. Overall, the pistol is reliable and easy to hold and operate. It's the best choice of the two because it's cheaper than a Beretta-branded handgun.
The Ruger P Series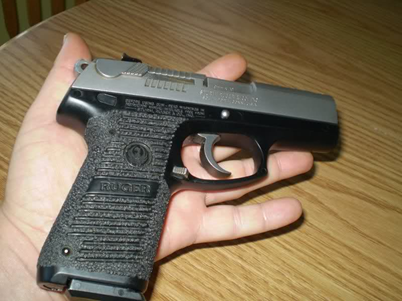 The Ruger name is undoubtedly synonymous with high performance, reliability and durability. Not to mention that these small handguns are easily operated and maintained. The pistol can be made out of two materials: either from hard-coated high-quality aluminum frames or a cheaper polymer compound. The grip is made up from polymer panels, which make it very stable while shooting. Simple is sometimes better, and no greater example comes to mind than the P Series, which perform as accurately as possible in adverse conditions as well. Just aim and shoot and the handgun will work its magic. If you'll be performing regular maintenance, the Ruger will last you a lifetime.
The Smith & Wesson's M&P SHIELD 9mm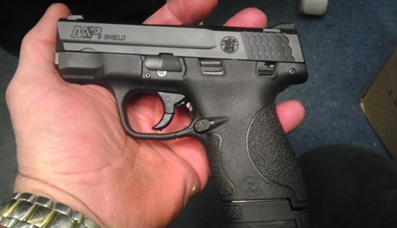 The M&P SHIELD 9mm is one of the slickest and easiest to conceal handguns on the market. Its body is made from a striker-polymer which also makes it very light and easy to maneuver, as it weighs only 20 ounces. Its tiny frame makes it easy to conceal even in a regular pocket; it measures a total of 6.1 inches, out of which the barrel is only 3 inches long. Despite its size, this handgun is as deadly as any of its larger counterparts.  It's one of the most precise small caliber handguns, thanks to its 5.2 inch sight radius, that makes aiming easy. The trigger pull measures about 6.4 pounds of force. It's a very sturdy and reliable pistol, perfect for target practice and field action alike.
The Bersa Thunder series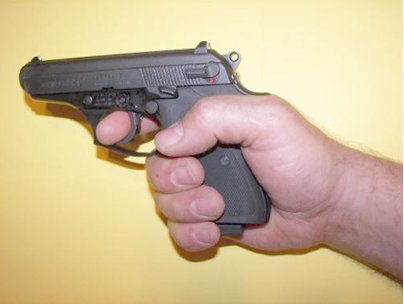 What makes the Bersa Thunder series great amongst the greats is the fact that the company offers deluxe features at no extra expenses. The Thunder series handguns have an ambidextrous design, making just as easy to utilize by right-handed and left-handed users alike. It has double ambidextrous safety controls (one on each side), ambidextrous slide release, automatic firing pin safety, reversible magazine release, a combat style trigger, adjustable trigger top, a combat style hammer and a barrel made out of extra-strong steel. Many experts consider that the Bersa products are the best as far as the quality / price ratio is concerned. Don't hesitate spending you're money on a Thunder series model, because it'll be money well spent.
If you're not a fan of small caliber handguns, you're not to blame. They can be a nuisance at times and are instantly effective in stopping an attacker in its track only if you point and shoot directly at weak spots (like the eyes, the head, the neck, the heart etc.). But they do have their advantages over large caliber weapons, especially in a home invasion scenario. They are easy to conceal and to place all around the house. A larger weapon not that much. You can stick a small pistol inside a vase, a drawer, the washing machine and everywhere else there's room; but always make sure the pistol would be away from the reach of children. Also practice and improve your aim; as previously stated, you want to as good of a shot as possible when firing a small caliber handgun if you plan to defuse the situation as fast as possible. Whether you're a small / big caliber kind of person, a firearm is still a firearm. And if you own one, be as responsible as you have to be and assess the situation correctly before pulling the trigger. Remember that a personal defense weapon should be something you feel comfortable carrying at all times.
Learn from the experts the secrets of self-defense! Click the banner below to grab your guide!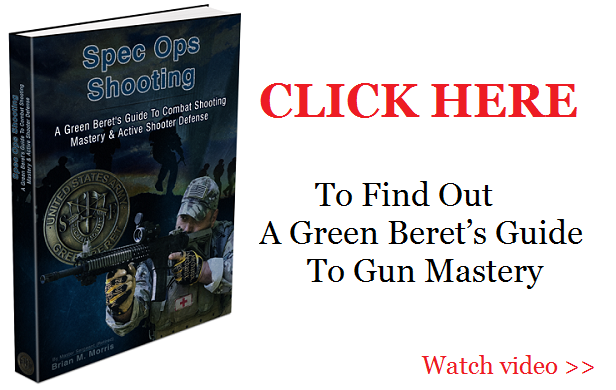 CHECK  OUR survival and prepping solutions
If you found this article useful, please like our Facebook page and stay up to date with the latest articles.
WHAT TO READ NEXT:
5 TECHNIQUES TO PRESERVE MEAT IN THE WILD YOU SHOULD PRACTICE
HOW TO MAKE YOUR OWN BACON (STEP BY STEP GUIDE)
A RETURN TO THE OLD PATHS: HOW TO MAKE PEMMICAN LIKE THE NATIVE AMERICANS
20 LOST RECIPES FROM THE PIONEERS: WHAT THEY COOKED ON THEIR JOURNEY WESTWARD
SEVEN CLASSIC GREAT DEPRESSION ERA RECIPES GRANDMA USED TO MAKE
POTTED MEAT: A LOST SKILL OF LONG TERM MEAT STORAGE
BACK TO BASICS: HOW TO MAKE AND PRESERVE LARD
THE BEST WAY TO STOCKPILE VEGETABLES OFF-GRID
OLD FASHIONED PRESERVING-GRANDPA'S RECIPE FOR CURED SMOKED HAM
HOW TO MAKE GUNPOWDER THE OLD FASHIONED WAY
SURVIVAL HERBAL RECIPES FROM OUR ANCESTORS
HOW TO PRESERVE MEAT FOR SURVIVAL LIKE OUR GRANDFATHERS
OTHER USEFUL RESOURCES:
The 3 Pioneer Survival Lessons We Should Learn
The Most Effective Home Defense Strategies
Old School Hacks for Off-Grid Living
The Medical Emergency Crash Course
The Smart, Easy Way to Food Independence