There's nothing more delicious and versatile than pasta. You can use it to make lasagna, spaghetti, macaroni and cheese or simple yet delicious rustic dishes made only from the ingredients in your garden.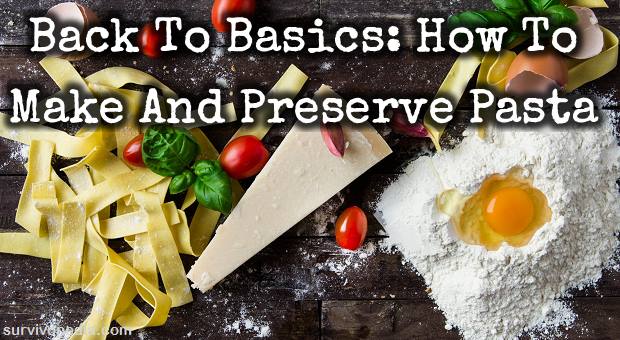 The only problem with using pasta for survival is that the boxes are so bulky that it's difficult to store much of it. Today we're going to tell you how to make and preserve pasta for survival.
One of my fondest memories is sitting in the kitchen with one of the best cooks that I've ever known and learning all of his techniques. Making pasta was one of his greatest skills and he said that he loved it because it required very few ingredients, the dough was easy to make, and he could make it in any shape that he needed to. He also made all of his pasta without using a machine!
Though having a pasta maker will most certainly make your life easier once you learn how to use it, it was a frustration for me because I kept tearing the pasta. After attempting it a few times, I gave up and went back to the way that I was taught in the beginning. If you want to use a pasta machine, feel free but since this is about survival, your machine may break so we're going to talk about doing it all by hand!
How To Make And Preserve Pasta
You won't need many ingredients: flour, eggs and (optionally) salt. I like to add it because it adds flavor already. Let's talk about flour for a minute. All-purpose flour is just fine for a basic pasta mix. If you want to add texture and a bit of hardiness to your pasta, you can add some semolina flour to the mix. If you want silkier pasta for a more refined noodle, add some cake flour, or 00 flour.
Some people like to add oil, but it's not essential to making basic pasta and may be scarce in a survival situation. (I can already hear the gasps of some of the best Italian cooks I know – please don't stop feeding me because I'm trying to keep things simple here!).
Once you get the hang of making your own pasta, you can experiment with adding herbs and other ingredients such as pureed spinach to make the fancy stuff, but let's get the hang of the easy pasta first.
We'll start with a small batch, three servings, so that you can work easily with the dough and have plenty of space to dry it even if you live in a small place. Here's the recipe:
1 cup flour
1 extra large egg, beaten
1/2 teaspoon salt
Here's the thing – making any kind of bread-like dough using a recipe is tricky and imprecise. There are just too many factors that can affect the texture of the dough. It could be humid, your eggs could be large or small or whatever.
My point is that you need to focus less on precise amounts and more on the texture of your dough. By the time you're done, you want a dough that is moist but just dry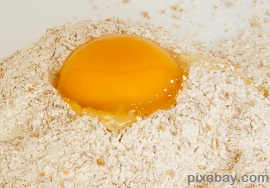 enough that it doesn't stick to your hands or your rolling pin. If you need to add a bit more flour to get that, do so. If you need more moisture, add a teaspoon of water at a time or some beaten egg or an extra yolk.
I like to use the "well" method of combining the ingredients though using a bowl works, too.
Pour your flour onto a dry, clean surface such as your counter.
Start in the center of the flour and make an indentation big enough to hold your eggs, with the sides higher than the center.
Add your beaten egg and salt. (you don't necessarily have to beat the egg first, but I find that it's easier and quicker to do so)
Use a fork to start folding the flour into the egg and combining them.
Once you have them sufficiently combined that you can use your hands without making a sticky mess, start kneading with your hands.
Scrape the flour off the surface as you go to incorporate it into the ball. If the dough is sticky, add a bit more flour; if it's so dry that it won't hold together, add more liquid.
Knead by pushing with the heel of your hand, then folding it over, rotating about 45 degrees and starting the process again.
You'll need to put some effort into kneading because under-kneading the dough won't activate the gluten and give you that springy snap that will make your dough hold together and have a great texture once it's cooked. About 10 minutes of kneading will do.
You should now have a smooth, elastic ball of dough that's moist but not wet, and that holds together in a nice ball without being so dry that it crumbles.
Wrap it in plastic and allow it to rest for at least an hour, but no more than a few hours. This allows the gluten bonds to form and the moisture to absorb throughout the ball. In other words, it allows your dough to mature.
Smile – you're through the boring part and now you get to play with your food!
Lightly flour your surface and roll your dough, starting in the center and rolling it first backward, then forward and to the sides. Try to keep the dough in a roughly rectangular shape at least 6 inches on the one side.
Lightly dust the top of your dough with flour then, starting at the short side, GENTLY fold your dough over in 2-inch intervals until it's rolled up.
Slice into 1/4-1/2 inch strips, keeping them as even as possible. Separate the strips.
You now have two choices – you can cook your pasta to see if you like the taste before you make more (which I recommend) or you can hang from a string or a coat hanger in a single layer and allow to dry until all the moisture is completely gone and it breaks like store-bought pasta.
Seal in an airtight container until you're ready to use it. It'll keep almost indefinitely.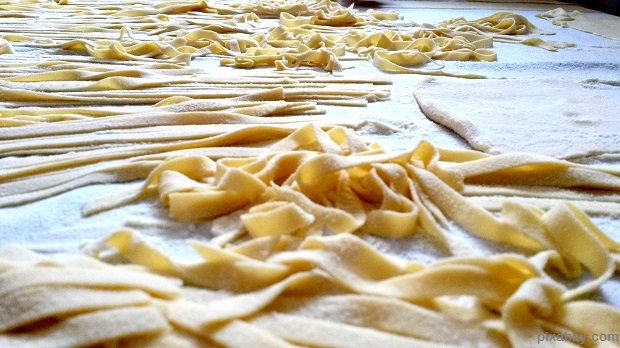 Some tips – if you find that the dough is too snappy and is difficult to roll out, add a tablespoon or so of olive oil to your next recipe. It will help it to keep from rolling back in on itself but will also make the dough a bit more difficult to work with when kneading. Also, olive oil may be in short supply if SHTF, which is why I consider the recipe that I used to be pasta for survival. It may be worth the trade-off though.
Egg yolks add a nice structure; as a matter of fact, when doubling this recipe, experiment with adding 2 yolks for each whole egg to see how different the dough becomes.
Using just egg whites yields a watery dough that makes a mushy pasta. Don't skip the yolk in the interest of "healthy" pasta.
I used the old-school drying method because if SHTF, you may not have an oven. If you want to hurry the process along, you can lay the strips of pasta on a baking sheet and dry slowly at 150 degrees for a few hours.
Pasta is a great survival food because it's so versatile and can be made with simple ingredients that you'll likely have at hand, at least if you have your chickens on your homestead. Since you can use it in so many different ways, food fatigue won't be an issue and you don't need any special equipment to make it. It really is a fabulous survival food to have in your recipe arsenal.
If you have other suggestions for making or drying pasta, we'd love to hear about them in the comments section below!
This article has been written by Theresa Crouse for Survivopedia.
Want to be as self-sufficient as possible? Want to master all the lost skills our grandfathers had?  Then you really need this amazing step-by-step guide. It is called The Lost Ways and it contains all the knowledge of our forefathers.
Here's just a glimpse of what you'll find in The Lost Ways: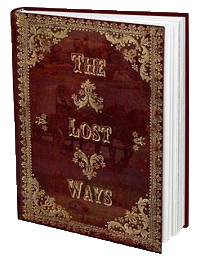 From Ruff Simons, an old west history expert and former deputy, you'll learn the techniques and methods used by the wise sheriffs from the frontiers to defend an entire village despite being outnumbered and outgunned by gangs of robbers and bandits, and how you can use their wisdom to defend your home against looters when you'll be surrounded.
Native American ERIK BAINBRIDGE – who took part in the reconstruction of the native village of Kule Loklo in California, will show you how Native Americans build the subterranean roundhouse, an underground house that today will serve you as a storm shelter, a perfectly camouflaged hideout, or a bunker. It can easily shelter three to four families, so how will you feel if, when all hell breaks loose, you'll be able to call all your loved ones and offer them guidance and shelter? Besides that, the subterranean roundhouse makes an awesome root cellar where you can keep all your food and water reserves year-round.
From Shannon Azares you'll learn how sailors from the XVII century preserved water in their ships for months on end, even years and how you can use this method to preserve clean water for your family cost-free.
Mike Searson – who is a Firearm and Old West history expert – will show you what to do when there is no more ammo to be had, how people who wandered the West managed to hunt eight deer with six bullets, and why their supply of ammo never ran out. Remember the panic buying in the first half of 2013? That was nothing compared to what's going to precede the collapse.
From Susan Morrow, an ex-science teacher and chemist, you'll master "The Art of Poultice." She says, "If you really explore the ingredients from which our forefathers made poultices, you'll be totally surprised by the similarities with modern medicines." Well…how would you feel in a crisis to be the only one from the group knowledgeable about this lost skill? When there are no more antibiotics, people will turn to you to save their ill children's lives.
And believe it or not, this is not all…
Table Of Contents:
Making Your Own Beverages: Beer to Stronger Stuff
Ginger Beer: Making Soda the Old Fashioned Way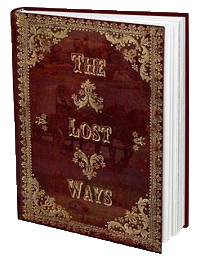 How North American Indians and Early Pioneers Made Pemmican
Spycraft: Military Correspondence During The 1700's to 1900's
Wild West Guns for SHTF and a Guide to Rolling Your Own Ammo
How Our Forefathers Built Their Sawmills, Grain Mills,and Stamping Mills
How Our Ancestors Made Herbal Poultice to Heal Their Wounds
What Our Ancestors Were Foraging For? or How to Wildcraft Your Table
How Our Ancestors Navigated Without Using a GPS System
How Our Forefathers Made Knives
How Our Forefathers Made Snow shoes for Survival
How North California Native Americans Built Their Semi-subterranean Roundhouses
Our Ancestors'Guide to Root Cellars
Good Old Fashioned Cooking on an Open Flame
Learning from Our Ancestors How to Preserve Water
Learning from Our Ancestors How to Take Care of Our Hygiene When There Isn't Anything to Buy
How and Why I Prefer to Make Soap with Modern Ingredients
Temporarily Installing a Wood-Burning Stove during Emergencies
Making Traditional and Survival Bark Bread…….
Trapping in Winter for Beaver and Muskrat Just like Our Forefathers Did
How to Make a Smokehouse and Smoke Fish
Survival Lessons From The Donner Party
Get your paperback copy HERE
CHECK  OUR survival and prepping solutions
WHAT TO READ NEXT:
TO BASICS: MAKING AND CANNING HOMEMADE BUTTER
A RETURN TO THE OLD PATHS: HOW TO MAKE PEMMICAN LIKE THE NATIVE AMERICANS
20 LOST RECIPES FROM THE PIONEERS: WHAT THEY COOKED IN THEIR JOURNEY WESTWARD
SEVEN CLASSIC GREAT DEPRESSION ERA RECIPES GRANDMA USED TO MAKE
POTTED MEAT: A LOST SKILL OF LONG TERM MEAT STORAGE
BACK TO BASICS: HOW TO MAKE AND PRESERVE LARD
THE BEST WAY TO STOCKPILE VEGETABLES OFF-GRID
OLD FASHIONED PRESERVING-GRANDPA'S RECIPE FOR CURED SMOKED HAM
HOW TO MAKE GUNPOWDER THE OLD FASHIONED WAY
SURVIVAL HERBAL RECIPES FROM OUR ANCESTORSHOW TO MAKE YOUR OWN BACON (STEP BY STEP GUIDE)
BACK TO BASICS: HOW TO MAKE AND PRESERVE LARD
THE BEST WAY TO STOCKPILE VEGETABLES OFF-GRID
OLD FASHIONED PRESERVING-GRANDPA'S RECIPE FOR CURED SMOKED HAM
HOW TO MAKE GUNPOWDER THE OLD FASHIONED WAY
SURVIVAL HERBAL RECIPES FROM OUR ANCESTORS
HOW TO PRESERVE MEAT FOR SURVIVAL LIKE OUR GRANDFATHERS
OTHER USEFUL RESOURCES:
The 3 Pioneer Survival Lessons We Should Learn
The Most Effective Home Defense Strategies
Old School Hacks for Off-Grid Living
The Medical Emergency Crash Course
The Smart, Easy Way to Food Independence
How to Survive the Coming 100 Years Long Drought
About Theresa Crouse
Theresa Crouse is a full-time writer currently living in central Florida. She was born and raised in the hills of West Virginia, where she learned to farm, hunt, fish, and live off the land from an early age. She prefers to live off the grid as much as possible and does her best to follow the "leave nothing behind but footprints" philosophy. For fun, she enjoys shooting, kayaking, tinkering on her car and motorcycle, and just about anything else that involves water, going fast, or the outdoors. You can send Theresa a message at editor [at] survivopedia.com.