My grandfather was a large influence on my passion for homesteading. He was an avid gardener, hunter, made his own wine and sausage; and was always generous about sharing.
He made use of the plethora of meat he would get from hunting or deals he found at the grocery store. Once he was loaded up on meat, he would get his meat grinder out and carefully cut his meat for grinding and make some of the best sausage you could ever have. I grew up on his homemade sausage and could never get enough. I am a big believer in sharing family recipes and did so in my book, The Prepper's Cookbook, so I had to share some of my favorite sausage recipes too.
Sausage making is a great way to use up an abundance of meats in the home freezer. I use an assortment of cheap meats. My grandfather's secret was using equal amounts of brisket and pork butt.
A Beginners Guide to Sausage Making
Here's what you need to get started:
large mixing bowl
sharp knife
meat grinder (look for one that has multiple speeds and has a reverse capability. It helps with unclogging the grinder)
sausage casings (natural or non-edible casings is a personal choice)
assorted spices or buy a prepared spice pack
cure salt (I like this one) – Use 1 teaspoon of curing salt per 5 lbs. of meat.
meat: stew meat, roasts, briskets, pork butts, pork shoulder, etc.
baker's twine
Prepping the Meat
Any meat can be used in sausage making, but typically, pork and beef are used. Pork shoulder is a great meat to use as it has 20% fat and creates a nice balance to the sausage. As well, it is sold at a low-cost. Place it on a plate or pan in the freezer, along with the grinder parts that will contact the meat. Leave it there for about 20 minutes until it is firm but do not let it freeze. This makes grinding easier.
Here's a great video on getting the meat prepped for grinding and stuffing.
Here are a few of my favorite recipes:
BREAKFAST SAUSAGE
2 pounds ground pork
2 teaspoons dried sage
2 teaspoons salt
1 teaspoon ground black pepper
1/4 teaspoon dried marjoram
1 tablespoon brown sugar
1/8 teaspoon crushed red pepper flakes (optional)
Instructions:
In a large mixing bowl, combine all ingredients and mix well.
Form mixture into patties and place on a large dish.
Over medium heat, saute the patties in a large skillet for 5 minutes per side, or until internal pork temperature reaches 160 degrees F (73 degrees C).
Or, add sausage patties to a freezer bag and freeze for later. Tip: We like to freeze them on a large cookie sheet with wax paper. Once frozen, we add them to a freezer bag.
SUMMER SAUSAGE
5 pounds ground beef
1 teaspoon Morton Tender Quick curing salt
2 teaspoon ground black pepper
4 teaspoons paprika
1 teaspoon garlic powder
1 teaspoon onion powder
1-2 tablespoons mustard seed
1/2 teaspoon crushed red pepper flakes, for spicy (optional)
summer sausage casings (if you plan on smoking your summer sausage)
Instructions:
In a large bowl, mix together the ground beef and spices until well blended.
Cover mixture with foil and allow to cure in refrigerator for 48 hours. Season with garlic powder, curing mixture, liquid smoke and mustard seed, and mix thoroughly. It is best to use your hands for this – like meatloaf. Form the mixture into two rolls, and wrap with aluminum foil. Refrigerate for 24 hours.
If you are smoking your meat: Add meat to casing either by stuffing by hand, using a sausage stuffer or sausage stuffing attachment for an electric meat-grinder.
If you plan on baking your summer sausage: Shape the mixture into five logs and wrap in foil. Set on a wire rack over a large drip pan.
See cooking directions below.
Smoking Instructions:
To smoke summer sausage, smoke at 140 degrees F for 1 hour, then at 180 degrees F until internal temperature reaches 160 degrees F (insert a meat thermometer in the thickest part of the sausage). Tip: Soak your wood chips in beer to give your sausage an authentic flavor. I used Sierra Nevada IPA and it turned out delicious.
Remove from smokehouse and place in ice water to cool down rapidly.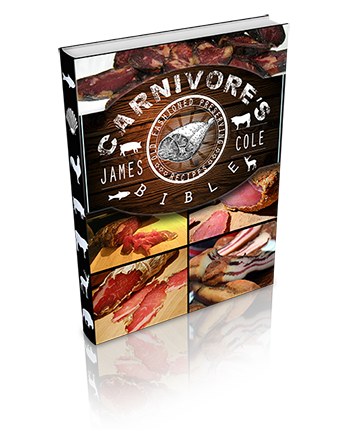 You can find the book "Carnivore's Bible" HERE
Baking Instructions:
Preheat the oven to 350 degrees.
Remove foil from the beef, and poke holes in the bottom of the rolls. Place them on a roasting rack in a shallow roasting pan to catch the drippings.
Bake for 1 hour in the preheated oven.
Cool, then wrap in plastic or foil, and refrigerate until cold before slicing.
BRATWURST
3 pounds pork shoulder or butt
1 pound beef or pork fat or a blend
4 teaspoons white sugar
1 tablespoons cumin
1 tablespoon sage
1 teaspoon paprika
1 teaspoon cayenne pepper
2 teaspoons dried rosemary
1 tablespoon dry mustard
1 teaspoon pepper
1 teaspoon nutmeg
5 teaspoons salt
Instructions:
Grind the meat using a fine grinding plate.
After grinding, add the sausage seasonings to the meat and blend by hand or use a meat mixer. Be sure to mix thoroughly to ensure the ingredients are spread evenly throughout the meat.
Pinch off a small piece of the sausage and cook it in a frying pan let it cool and taste to see if the seasoning is to your taste.
Stuff by hand or by using a sausage stuffer or sausage stuffing attachment for an electric meat-grinder. (Note: do NOT use the blade in meat-grinder when stuffing and it is best to use a stuffing (bean) plate). If you wish, You can also form patties without casings.
See cooking instructions below.
Baking or Grilling Instructions:
Prick bratwurst with fork to prevent them from exploding as they cook. Place in a large stock pot with the onions, butter, and beer. Place pot over medium heat, and simmer for 15 to 20 minutes.

Preheat grill for medium-high heat.

Lightly oil grate. Cook bratwurst on preheated grill for 10 to 14 minutes, turning occasionally to brown evenly. 
Smoking Instructions:
Preheat your smoker or grill to about 225 degrees F.
Place the sausages on an indirect side away from the heat. Add wood to the heat right after the meat goes on, and smoke for only 30 to 60 minutes at the start while the meat is cold. There should be no need to turn the meat.
Heat for at least 1 hour, but check the internal temp with a digital meat thermometer and make sure the internal meat temperature is at least 160°F.


It's nice to be able to carry on a family tradition that I loved as a child. I can honestly say that my kids are big fans of homemade sausage and it is my hope these recipes will live on.
This information has been made available by Ready Nutrition
Saving our forefathers ways starts with people like you and me actually relearning these skills and putting them to use to live better lives through good times and bad. Our answers on these lost skills comes straight from the source, from old forgotten classic books written by past generations, and from first hand witness accounts from the past few hundred years. Just like our forefathers used to do, The Lost Ways teaches you the lost skills that made them thrive when there was no electricity, no grocery store, no cheap oil, no cars, and no running water. It comes as a step-by-step guide accompanied by pictures and teaches you how to use basic ingredients to make super-food for your loved ones. Watch the video below:
Here's just a glimpse of what you'll find in The Lost Ways:
From Ruff Simons, an old west history expert and former deputy, you'll learn the techniques and methods used by the wise sheriffs from the frontiers to defend an entire village despite being outnumbered and outgunned by gangs of robbers and bandits, and how you can use their wisdom to defend your home against looters when you'll be surrounded.
Native American ERIK BAINBRIDGE – who took part in the reconstruction of the native village of Kule Loklo in California, will show you how Native Americans build the subterranean roundhouse, an underground house that today will serve you as a storm shelter, a perfectly camouflaged hideout, or a bunker. It can easily shelter three to four families, so how will you feel if, when all hell breaks loose, you'll be able to call all your loved ones and offer them guidance and shelter? Besides that, the subterranean roundhouse makes an awesome root cellar where you can keep all your food and water reserves year-round.
From Shannon Azares you'll learn how sailors from the XVII century preserved water in their ships for months on end, even years and how you can use this method to preserve clean water for your family cost-free.
Mike Searson – who is a Firearm and Old West history expert – will show you what to do when there is no more ammo to be had, how people who wandered the West managed to hunt eight deer with six bullets, and why their supply of ammo never ran out. Remember the panic buying in the first half of 2013? That was nothing compared to what's going to precede the collapse.
From Susan Morrow, an ex-science teacher and chemist, you'll master "The Art of Poultice." She says, "If you really explore the ingredients from which our forefathers made poultices, you'll be totally surprised by the similarities with modern medicines." Well…how would you feel in a crisis to be the only one from the group knowledgeable about this lost skill? When there are no more antibiotics, people will turn to you to save their ill children's lives.
And believe it or not, this is not all…
Table Of Contents:
Making Your Own Beverages: Beer to Stronger Stuff
Ginger Beer: Making Soda the Old Fashioned Way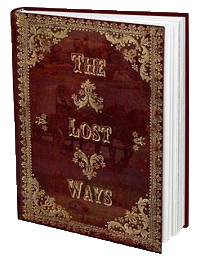 How North American Indians and Early Pioneers Made Pemmican
Spycraft: Military Correspondence During The 1700's to 1900's
Wild West Guns for SHTF and a Guide to Rolling Your Own Ammo
How Our Forefathers Built Their Sawmills, Grain Mills,and Stamping Mills
How Our Ancestors Made Herbal Poultice to Heal Their Wounds
What Our Ancestors Were Foraging For? or How to Wildcraft Your Table
How Our Ancestors Navigated Without Using a GPS System
How Our Forefathers Made Knives
How Our Forefathers Made Snow shoes for Survival
How North California Native Americans Built Their Semi-subterranean Roundhouses
Our Ancestors'Guide to Root Cellars
Good Old Fashioned Cooking on an Open Flame
Learning from Our Ancestors How to Preserve Water
Learning from Our Ancestors How to Take Care of Our Hygiene When There Isn't Anything to Buy
How and Why I Prefer to Make Soap with Modern Ingredients
Temporarily Installing a Wood-Burning Stove during Emergencies
Making Traditional and Survival Bark Bread…….
Trapping in Winter for Beaver and Muskrat Just like Our Forefathers Did
How to Make a Smokehouse and Smoke Fish
Survival Lessons From The Donner Party
Get your paperback copy HERE
WHAT TO READ NEXT:
5 TECHNIQUES TO PRESERVE MEAT IN THE WILD YOU SHOULD PRACTICE
HOW TO MAKE YOUR OWN BACON (STEP BY STEP GUIDE)
A RETURN TO THE OLD PATHS: HOW TO MAKE PEMMICAN LIKE THE NATIVE AMERICANS
20 LOST RECIPES FROM THE PIONEERS: WHAT THEY COOKED ON THEIR JOURNEY WESTWARD
SEVEN CLASSIC GREAT DEPRESSION ERA RECIPES GRANDMA USED TO MAKE
POTTED MEAT: A LOST SKILL OF LONG TERM MEAT STORAGE
BACK TO BASICS: HOW TO MAKE AND PRESERVE LARD
THE BEST WAY TO STOCKPILE VEGETABLES OFF-GRID
OLD FASHIONED PRESERVING-GRANDPA'S RECIPE FOR CURED SMOKED HAM
HOW TO MAKE GUNPOWDER THE OLD FASHIONED WAY
SURVIVAL HERBAL RECIPES FROM OUR ANCESTORS
HOW TO PRESERVE MEAT FOR SURVIVAL LIKE OUR GRANDFATHERS
OTHER USEFUL RESOURCES:
The 3 Pioneer Survival Lessons We Should Learn
The Most Effective Home Defense Strategies
Old School Hacks for Off-Grid Living
The Medical Emergency Crash Course
The Smart, Easy Way to Food Independence
How to Survive the Coming 100 Years Long Drought
CHECK  OUR survival and prepping solutions
Tess Pennington is the author of The Prepper's Blueprint, a comprehensive guide that uses real-life scenarios to help you prepare for any disaster. Because a crisis rarely stops with a triggering event the aftermath can spiral, having the capacity to cripple our normal ways of life. The well-rounded, multi-layered approach outlined in the Blueprint helps you make sense of a wide array of preparedness concepts through easily digestible action items and supply lists.
Tess is also the author of the highly rated Prepper's Cookbook, which helps you to create a plan for stocking, organizing and maintaining a proper emergency food supply and includes over 300 recipes for nutritious, delicious, life-saving meals. 
Visit her web site at ReadyNutrition.com for an extensive compilation of free information on preparedness, homesteading, and healthy living.