When cowboys hit the trail for a cattle drive, they had a long journey ahead of them. Many drives took months, taking the crew into remote areas along the way.
Outposts to buy supplies were few and far between, so the cowboys had to prepare carefully. They filled the chuck wagon with everything they needed to survive the months long journey. From sleeping rolls to cooking supplies and medical equipment, the chuck wagon was the lifeline of the drive.
Space was limited. They only had room for the bare necessities, so they selected everything with care.
Their food was simple, but filling. Cowboy biscuits were a staple.
What Are Cowboy Biscuits?
Back at the home ranch, eggs and milk helped produce fluffy biscuits. But, those farm products don't travel well and are perishable.
Cowboys had to learn to bake biscuits with just a few, travel-friendly ingredients. So, they used sourdough.
When fed regularly, sourdough lasts a long time. It stayed in a crock or jar, not taking much space. And, it gave each batch of biscuits flavor, helped them rise, and made them hearty.
Sourdough starter was the star of cowboy biscuits. It turned plain old flour and salt into filling victuals.
Sourdough biscuits aren't as fluffy as biscuits you might be used to eating. They are denser, with an almost cake-like texture.
Cowboy biscuits also differ from traditional biscuits in the baking stage. Since there were no ovens available on the open range, cowboys baked their biscuits in cast iron skillets or Dutch ovens, over hot coals.
The Ingredients in Cowboy Biscuits
There are only three ingredients in traditional cowboy biscuits: sourdough starter, flour, and salt.  The salt and flour were typical pantry staples. The flour was most often whole wheat, though the cowboys used whatever was available.
The sourdough starter was the most important ingredient.
Wild Yeast Sourdough Starter
Instead of using baking powder to leaven their biscuits, cowboys relied on yeast. But, individual yeast packets weren't available yet. Instead, they collected their own wild yeast.
Wild yeast lives almost everywhere. It's in the air, in flour, and all around. Once you capture it, you can keep it alive in sourdough starter.
Some sourdough starter recipes call for potatoes, a bit of commercial yeast, or some other host for the yeast. While some cowboys may have used a complicated sourdough recipe, most didn't.
The simplest way to make your own yeast is to combine flour and water in a clean, non-reactive container.  Each day, feed it with fresh flour and water. Within a couple of days, you will start to notice bubbles in your starter. The bubbles tell you you've successfully found wild yeast and it's starting to multiply.
When the cowboys set out on the trail, their starter was full-strength and ready to use.
Make Your Own Sourdough Starter for Cowboy Biscuits
If you want to make your own batch of sourdough starter like the cowboys did, here are directions.
You'll need:
1 cup whole wheat flour
½ cup lukewarm water (not chlorinated)
A non-reactive container
A wooden spoon
A towel for covering your container
Additional food and water for feeding (1 cup of flour and ½ cup of water for each feeding)
Combine the flour and water in your container. Stir thoroughly, ensuring there aren't any pockets of dry flour at the bottom.
Cover the container with the towel and leave at room temperature for 24 hours.
Examine your starter. Check for any signs of bubbles.
Whether or not you see bubbles, remove half of your starter. To the remaining half, add another cup of flour and a ½ cup of lukewarm water.
Stir well and cover it again.
In 12 hours, your starter will be ready for another feeding. Keep half of the starter in your container and remove the rest. Feed the starter you kept with one cup of flour and ½ cup of lukewarm water.
Stir well and cover it again.
Every twelve hours, repeat the feeding. You will always keep half the starter and feed it a cup of flour and ½ cup of water. Remember to stir and cover.
Over the next few days, your starter will begin to change. You'll notice more bubbles throughout. It will develop a distinct smell. And it'll double in bulk more quickly.
The temperature of the air in the room where your starter is in affects its growth. If it's too hot you can kill the yeast. If it gets cool, the yeast slows. When the temperature drops too low, the yeast will stop growing completely.
Out on the trail, cowboys also kept an eye on the temperature. When the weather turned cool in the fall, they took their sourdough container to bed with them. Their body heat kept it alive even when it was cold outside.
Your starter will take several days to come to full strength. Since there are so many variables, it's best to use signs instead of a specific timeline. Your starter is ready when it:
Is bubbly throughout and appears frothy.
Doubles in bulk within 4-6 hours of a feeding.
Has a distinct sourdough smell (a fresh, yeasty odor)
By this point, it has the potency it needs to make your biscuits rise. Before then, it won't be strong enough.
The Discarded Starter
There's a lot of discarded starter when making your own sourdough starter. Removing starter before each feeding helps to keep your total amount of starter manageable. If you kept it all, you'd have tons of starter.
It also helps keep the PH where it needs to be. By reducing the competition for food among your yeast cells, you decrease your chance of growing the wrong bacteria.
When you take the starter out, you don't have to throw it away. Here are four suggestions for using it:
Give it to a friend who wants their own starter
Thin it down with a little milk and add several eggs to make sourdough crepe batter
Add it to your compost pile
Use it to make waffles or pancakes
How to Maintain Your Starter
Cowboys used their starter daily. Each time they made biscuits, they fed their starter. In addition to adding more flour and water, they'd mix any leftover dough back into the starter to avoid waste.
If you aren't using your starter daily, you will need to maintain it.
You can place the starter in the fridge or a cool location. Then, just remove half of it and feed it once a week. Make sure to stir it well each time. When you're ready to use it, take it out of the fridge several hours before baking. This gives the yeast cells time to wake back up.
You can also leave your starter on the counter. This means it will be ready to use whenever you want to bake. But, it also means need to remove and feed every day.
Decide which method works best for you. Just don't forget about your starter. If you neglect it for too long, it will mold.
If you maintain it properly, it will last indefinitely. There are sourdough starters that have been passed down throughout families for generations.
How to Make Cowboy Biscuits
Once your starter is at full-strength, you can make your first batch of cowboy biscuits.
You'll need:
2 cups sourdough starter
2 cups flour
½ tsp salt
Butter, oil, or lard to grease the skillet
In a large bowl, combine the starter, the salt, and the flour flour. Stir it well.
If your dough is too thick, slowly mix in a little water until it's the right consistency for biscuits. This happens occasionally, especially if your sourdough starter is really thick.
Grease your cast iron skillet. Pinch off golf-ball sized clumps of dough and roll them into balls. Place each ball in the skillet. Begin at the outside and continue moving in towards the center in circles of biscuits.
Set the skillet on a large rock or rack over hot coals. Bake until browned.
Or you can bake in an oven at 350 degrees for 30 minutes, or until brown.
Fluffier Version of Cowboy Biscuits
As mentioned previously, these biscuits will not be the fluffy biscuits people eat today. They are a stick-to-your-ribs, dense biscuit that travel well. Cowboys could throw a couple in their pockets after breakfast and chew on them throughout their shift.
By using a limited amount of ingredients, biscuits could be made anywhere along the trail. But, with just a couple of extra ingredients, you can improve the taste and texture of these biscuits.
You'll need:
2 cups sourdough starter
2 cups flour
½ tsp salt
1 TBS honey
2 tsp baking powder
2 TBS lard or butter cut into small pieces
Additional lard or butter to grease skillet
In a large bowl combine the starter, flour, salt, honey, baking powder, and lard. Mix together, forming a soft dough.
Form and bake as directed above.
Looking Back in Time for Survival Skills
Though you likely aren't setting out on a cattle drive, cowboy biscuits are a great survival recipe. They take minimal ingredients, and travel well. The sourdough can also be used for many other breads, and you won't need to worry about storing yeast.
Because of their hardiness, ingenuity, and knowledge, cowboys were able to survive for months at a time with few materials. By looking back in time, and learning the skills from the past, you can be prepared for any situation you find yourself in.
Recipes:
Source: survivopedia.com
Here's just a glimpse of what you'll find in The Lost Ways:
From Ruff Simons, an old west history expert and former deputy, you'll learn the techniques and methods used by the wise sheriffs from the frontiers to defend an entire village despite being outnumbered and outgunned by gangs of robbers and bandits, and how you can use their wisdom to defend your home against looters when you'll be surrounded.
Native American ERIK BAINBRIDGE – who took part in the reconstruction of the native village of Kule Loklo in California, will show you how Native Americans build the subterranean roundhouse, an underground house that today will serve you as a storm shelter, a perfectly camouflaged hideout, or a bunker. It can easily shelter three to four families, so how will you feel if, when all hell breaks loose, you'll be able to call all your loved ones and offer them guidance and shelter? Besides that, the subterranean roundhouse makes an awesome root cellar where you can keep all your food and water reserves year-round.
From Shannon Azares you'll learn how sailors from the XVII century preserved water in their ships for months on end, even years and how you can use this method to preserve clean water for your family cost-free.
Mike Searson – who is a Firearm and Old West history expert – will show you what to do when there is no more ammo to be had, how people who wandered the West managed to hunt eight deer with six bullets, and why their supply of ammo never ran out. Remember the panic buying in the first half of 2013? That was nothing compared to what's going to precede the collapse.
From Susan Morrow, an ex-science teacher and chemist, you'll master "The Art of Poultice." She says, "If you really explore the ingredients from which our forefathers made poultices, you'll be totally surprised by the similarities with modern medicines." Well…how would you feel in a crisis to be the only one from the group knowledgeable about this lost skill? When there are no more antibiotics, people will turn to you to save their ill children's lives.
And believe it or not, this is not all…
Table Of Contents:
How North American Indians and Early Pioneers Made Pemmican
Making Your Own Beverages: Beer to Stronger Stuff
Ginger Beer: Making Soda the Old Fashioned Way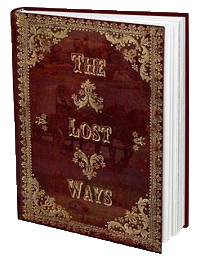 Spycraft: Military Correspondence During The 1700's to 1900's
Wild West Guns for SHTF and a Guide to Rolling Your Own Ammo
How Our Forefathers Built Their Sawmills, Grain Mills,and Stamping Mills         How Our Ancestors Made Herbal Poultice to Heal Their Wounds
What Our Ancestors Were Foraging For? or How to Wildcraft Your Table
How Our Ancestors Navigated Without Using a GPS System
How Our Forefathers Made Knives
How Our Forefathers Made Snow shoes for Survival
How North California Native Americans Built Their Semi-subterranean Roundhouses
Our Ancestors'Guide to Root Cellars
Good Old Fashioned Cooking on an Open Flame
Learning from Our Ancestors How to Preserve Water
Learning from Our Ancestors How to Take Care of Our Hygiene When There Isn't Anything to Buy
How and Why I Prefer to Make Soap with Modern Ingredients
Temporarily Installing a Wood-Burning Stove during Emergencies
Making Traditional and Survival Bark Bread…….
Trapping in Winter for Beaver and Muskrat Just like Our Forefathers Did
How to Make a Smokehouse and Smoke Fish
Survival Lessons From The Donner Party
Get your paperback copy HERE
Part II of the book available now. Get yours HERE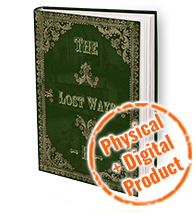 WHAT TO READ NEXT:
HOW TO MAKE YOUR OWN BACON (STEP BY STEP GUIDE)
A RETURN TO THE OLD PATHS: HOW TO MAKE PEMMICAN LIKE THE NATIVE AMERICANS
20 LOST RECIPES FROM THE PIONEERS: WHAT THEY COOKED ON THEIR JOURNEY WESTWARD
SEVEN CLASSIC GREAT DEPRESSION ERA RECIPES GRANDMA USED TO MAKE
POTTED MEAT: A LOST SKILL OF LONG TERM MEAT STORAGE
BACK TO BASICS: HOW TO MAKE AND PRESERVE LARD
THE BEST WAY TO STOCKPILE VEGETABLES OFF-GRID
OLD FASHIONED PRESERVING-GRANDPA'S RECIPE FOR CURED SMOKED HAM
HOW TO MAKE GUNPOWDER THE OLD FASHIONED WAY
SURVIVAL HERBAL RECIPES FROM OUR ANCESTORS
HOW TO PRESERVE MEAT FOR SURVIVAL LIKE OUR GRANDFATHERS
OTHER USEFUL RESOURCES:
The 3 Pioneer Survival Lessons We Should Learn
The Most Effective Home Defense Strategies
Old School Hacks for Off-Grid Living
The Medical Emergency Crash Course
The Smart, Easy Way to Food Independence