There are actually a lot of different types of energy sources to tap into after a disaster strikes. One of the major differences is that unless you have formed some kind of intentional community or have a group of like-minded individuals in your area, you will be the engineer, the mechanic, and the maintenance man all rolled into one.
To digress just a bit, this is why shows such as "The Colony" (the reality show, not the aliens), and "Doomsday Preppers" are productive for the introduction of ideas. Those ideas need to be researched and employed, in that order.
Let's cover some methods to generate energy and provide power, and discuss the positive and negative aspects of each one.
This smart device

 will help you slash an excess of 70% off your power bill overnight…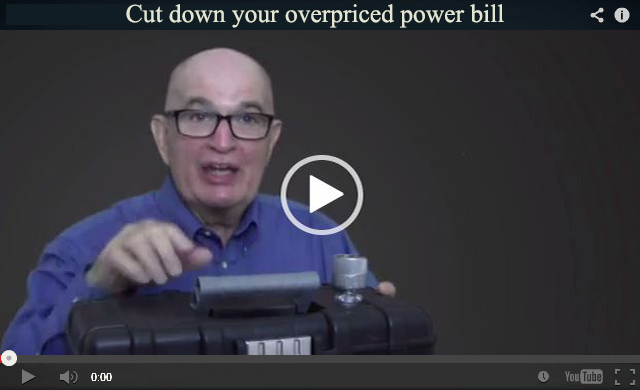 The time to begin undertaking these projects is now, prior to needing them. One other problem has to do with the human element, an element more inhumane than anything else. Local building codes, community and residential codes, inspectors, permits, and the usual "conga line" of loser-bureaucrats coming out to steal your money and prevent you from doing anything…these are sure to materialize. You may have to build everything and not employ it until after a disaster hits. Not to mention "friendly," nosy, intrusive, vicious, snooping neighbors will swoop in to denounce you or cause you other forms of trouble. I've written about these "gems" before in the past: more deadly to deal with after the S hits the fan than the disaster itself.
Those are some basics, and you need to do some research and figure out which one (or ones) can be viable for you. There are plenty of resources out there all over the Internet, as well as in your local library or county extension office. Take some time working with each to come up with the best possible courses of action. Then when the time comes, if you've prepared, you'll be able to sing the song, "I've got the power," although it will be getting kind of hectic. You'll be able to handle it.  JJ out!
Source: readynutrition.com
WHAT TO READ NEXT:
HOW TO MAKE YOUR OWN BACON (STEP BY STEP GUIDE)
A RETURN TO THE OLD PATHS: HOW TO MAKE PEMMICAN LIKE THE NATIVE AMERICANS
20 LOST RECIPES FROM THE PIONEERS: WHAT THEY COOKED ON THEIR JOURNEY WESTWARD
SEVEN CLASSIC GREAT DEPRESSION ERA RECIPES GRANDMA USED TO MAKE
POTTED MEAT: A LOST SKILL OF LONG TERM MEAT STORAGE
BACK TO BASICS: HOW TO MAKE AND PRESERVE LARD
THE BEST WAY TO STOCKPILE VEGETABLES OFF-GRID
OLD FASHIONED PRESERVING-GRANDPA'S RECIPE FOR CURED SMOKED HAM
HOW TO MAKE GUNPOWDER THE OLD FASHIONED WAY
SURVIVAL HERBAL RECIPES FROM OUR ANCESTORS
HOW TO PRESERVE MEAT FOR SURVIVAL LIKE OUR GRANDFATHERS
OTHER USEFUL RESOURCES:
The 3 Pioneer Survival Lessons We Should Learn
The Most Effective Home Defense Strategies
Old School Hacks for Off-Grid Living
The Medical Emergency Crash Course
The Smart, Easy Way to Food Independence