This article was originally published by Charl M on www.askaprepper.com
Secret food gardens will keep your family fed in a post SHTF world. This article will look at the principles and practices behind food gardens hidden in plain sight.
In a world where commercial food production has come to halt and supermarkets are all but useless, where will people get food? The simple answer is that you will need to look after yourself. This could take the form of foraging, stealing, or self-production.
The issue most Preppers face is that producing food in a post-apocalyptic world, will make you a target. But there are ways of approaching a food garden that will help you stay under the radar of raiders.
We will deal with two types of food gardens hidden in plain sight, both revolving around the idea of permaculture. Permaculture simply refers to a system of gardening that requires almost zero input or maintenance. In other words, gardens that look after themselves.
In permaculture, you are working alongside nature, and not in opposition to it. This is partly what you want because irrigation systems will be a dead giveaway and pumping water is energy-intensive. Also, permaculture gardens look natural, like part of the landscape, and will thus not stand out.

In Plain Sight
We all understand the importance of food in keeping us alive. Furthermore, most of us understand that we need variety in our diets.
This can be divided into Macronutrients and Micronutrients. Macros are mainly protein and carbohydrates, the things you need a lot of.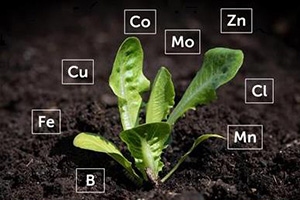 Micronutrients are the things you need in small amounts only.
It's tricky to get enough protein from gardens, but easy to get enough carbs and micronutrients. Following the principles laid out in this article will easily supply you with enough carbs and micro's to survive without difficulty.
We will be looking delving into Tree Guilds, while only skimming over Food Forests. Both take some time to establish, so the time to start is now. You also need to be aware that food forests and tree guilds are pretty much the same thing and overlap quite a bit, but the approach and results do differ slightly. I will deal with these differences in the article.
Food Guild
A Food Guild is a permaculture technique that revolves around fruit trees. The idea is basically that you plant fruit trees and then a range of plants around the base of the trees. These plants all support each other and work together to create a "micro-climate" and "micro-ecosystem" in which they all will thrive.
The most important thing about a guild is that it revolves around a tree. This could be a fruit tree, but other trees will do.
A food garden hidden in plain sight might make use of plain garden trees, with a variety of edibles and non-edibles planted randomly around the base of the tree. The secret is that it must look untended, chaotic, and bushy.
Various guilds should be established. Guilds are created with the following types of plants:
Trees – Could be fruit trees, but other trees will do. They provide shelter for smaller plants, attract birds and insects, and bring nutrients from deep in the soil to the top layer. a good variety of seasonal fruits could supply you with produce all year round. Apples, Citrus, Nuts, and Avocados produce at different times of the year.
Shrubs – These can be plants like berry bushes, stalks like corn, or bushes like comfrey or borage. Berries and corns are all good to eat.
Vines – They will use the tree and shrubs for support while enriching the soil. Beans like Lime and Runners are good options. You could also try Passion-Flower (Granadilla's) or cucumbers. Beans are good sources of fiber and protein, while granadillas can be eaten or added to water for making cordials.
Related: Get An Unlimited Supply Of Beans Growing This Tree
Herbs and Flowers – Help protect the plants in the guild. Garlic, chives, rosemary, marigolds, peppermint geraniums are all good options. They create strong chemical signals that drive away pests. You can also include thorny plants like cacti or prickly pears. Herbs are useful as medicine, flavoring, and food preservation. Flowers like marigolds can be used to create insect repellants.
Ground Covers – Alfalfa, soy-beans, or grasses like oats and rye can all be used to bind the soil and help capture moisture while benefitting microorganisms. Wheat can be added to stews and soups while alfalfa and soy can supply protein and other micronutrients. Kale, Spinach, and Salad leaves also fall into this category.
Rhizomes – Here you should focus on carrots, potatoes, sweet potatoes, and other diggers like beets and yams. These will supply much-needed carbs and nutrients for stews and soups.
Guilds take some time to establish, but once they are settled, will require no intervention except watering in dry spells. There are lists of companion plants for guilds, but these lists are long and fall beyond the scope of this article.
When buying seeds, make sure that you are buying "heirloom" varieties, as these produce seeds that can be used for propagation. They will also seed naturally if just left alone.

Food Forest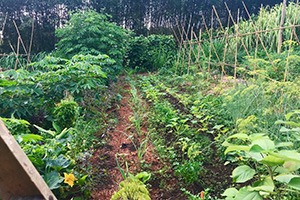 A Food Forest is a permaculture technique that revolves around a woodland setting.
You create systems within that ecosystem that incorporates fruit-bearing trees and other plants, but that does not disturb the original ecosystem but works within it.
Create your food forests by introducing edible plants into currents systems. The same principles are used as above for the Tree Guilds.
Related: How To Make A Year-Round Self-Sustaining Garden
Lesser-Known Plants
There are many plants that most people would not recognize as food. Prickly pears come to mind, but also perennials like tradescantia, Good King Henry, millet, pigweed, wild lettuce, lovage, Golden Alexander, seakale, chicory, and sunflowers.
Mushrooms and Fungi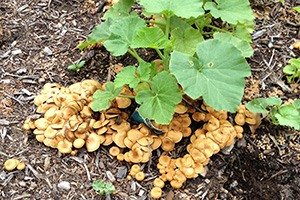 Though they occur naturally, you can also buy spores and establish them in your garden.
Mushrooms and fungi can be deadly. You need to be very sure you are eating the right plants. Buy a guide to make sure that even if you seeded spores, that you are not eating the wrong stuff.
Related: Edible and Non-edible Mushrooms you Find in Forests
Mushrooms are rich in fiber and nutrients and can add flavor to a variety of dishes. The beta-glucans present in many species has medicinal properties.
Secret Versus Non-Obvious
To grow a food garden hidden in plain sight would entail hiding the garden somehow. This article rather looks at how to grow food in a setting that others might not look at twice.
Any structure, regularity, or rows will draw immediate attention. As will irrigation lines.
The whole point behind guilds and food forests is that you create a messy, chaotic looking "overgrown" area. It will require some cultivation, like the removal of invasive plants, harvesting of produce, and some intervention to ensure that certain species don't crowd out some of the beneficial plants in there.
Furthermore, I would suggest installing underground irrigation, like drip irrigation. You can keep the soil moist without drawing attention to above-ground sprayers.
It's also a good idea to establish these garden structures close to ponds, but on the northern side of ponds if you are living in the northern hemisphere. The reflected light will be beneficial, and also ponds create "humid microclimates", that will benefit your plants.
Once a guild or forest is established, it will supply a lot of calories and nutrients at very low input levels. They will also bear produce for many years, so are well worth the effort of establishing.
So grab your shovel and get planting!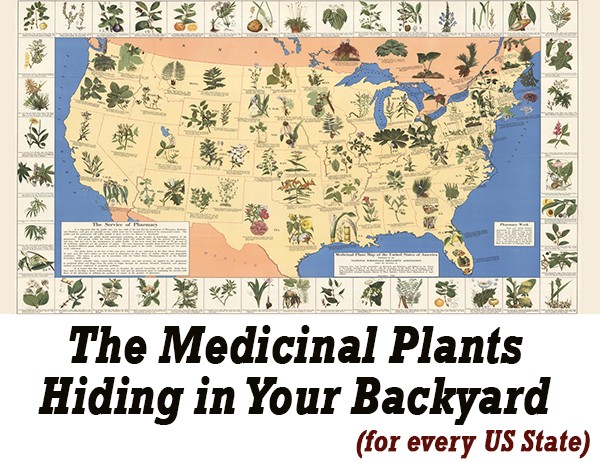 WHAT TO READ NEXT:
5 TECHNIQUES TO PRESERVE MEAT IN THE WILD YOU SHOULD PRACTICE
HOW TO MAKE YOUR OWN BACON (STEP BY STEP GUIDE)
A RETURN TO THE OLD PATHS: HOW TO MAKE PEMMICAN LIKE THE NATIVE AMERICANS
20 LOST RECIPES FROM THE PIONEERS: WHAT THEY COOKED ON THEIR JOURNEY WESTWARD
SEVEN CLASSIC GREAT DEPRESSION ERA RECIPES GRANDMA USED TO MAKE
POTTED MEAT: A LOST SKILL OF LONG TERM MEAT STORAGE
BACK TO BASICS: HOW TO MAKE AND PRESERVE LARD
THE BEST WAY TO STOCKPILE VEGETABLES OFF-GRID
OLD FASHIONED PRESERVING-GRANDPA'S RECIPE FOR CURED SMOKED HAM
HOW TO MAKE GUNPOWDER THE OLD FASHIONED WAY
SURVIVAL HERBAL RECIPES FROM OUR ANCESTORS
HOW TO PRESERVE MEAT FOR SURVIVAL LIKE OUR GRANDFATHERS
Survival Books
THE LOST BOOK OF REMEDIES-All Medicinal Plants and Lost Cures of North America
THE LOST WAYS-Learn the long forgotten secrets that helped our forefathers survive famines,wars,economic crisis and anything else life threw at them
EASY CELLAR-AMERICA'S NATURAL NUCLEAR BUNKERS: FIND THE CLOSEST ONE TO YOUR HOME
THE LOST WAYS 2-This lost super-food will bulletproof you against any food shortage or famine
BLACKOUT USA-EMP survival and preparedness guide
DIY HOME ENERGY-Follow the step-by-step guide from A to Z and you will have a working system to reduce your electricity bills and save energy
MY SURVIVAL FARM-This hidden survival garden will keep you well fed when SHTF
CARNIVORE'S BIBLE -THE REAL HOMEMADE AND HEALTHY MEATY TREATS OUR GRANDPARENTS USED TO MAKE…