Many of so-called long term storage foods can really be stored for about six months before they go bad. So in my opinion your food stock  plan should include foods that last for more than 6 months. This way you will not be forced to rotate all your food every 5-6 months just to be sure that if SHTF you will have fresh food on your table. Today we are going to talk about food that last for at least one or two years in your pantry.
Canned Meat.
 I know canned meat is not that tasty but it is a great item to store for long term due to the long shelf life.Canned meat is a great source of protein.
Beans and Canned Beans.
Store more canned beans than dry. Dry beans require large amounts of water and energy to prepare – when SHTF, water and energy are what you want to conserve. Be sure that the canned flavored beans you choose are not made with HFCS(high fructose corn syrup) – you'd be surprised how many older brands have switched their recipes to use HFCS instead of sugar. Better to store plain canned beans so you can control seasonings and amount of any sweetening, as well as have options of either savory or sweet dish, and general variety. If you plan to feed dogs/cats with people food, you will want to store plain foods – for instance, onions or garlic or raisins or macadamias as an ingredient makes dogs sick, and xylitol will kill a dog.
Canned Soups.
 It's my opinion that the canned food part of your food plan should include a substantial selection of a variety of soups. They simultaneously address your meat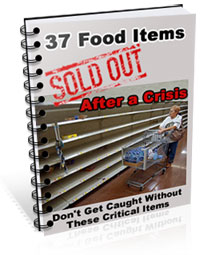 and vegetable requirements, especially when you stock a variety of soups. I'd suggest some of each of: Split-pea soup, a couple substantially-bean-related soups, and several beef and chicken soups chosen to cover a variety of vegetables between them. Since this is for surviving SHTF and not weight loss, read the labels and pick the soups with the *most* calories, fat, carbs, and protein. I especially aim for high fiber as well, in order to help you to feel full in case you need to make your food supply last and are forced to cut back on consumption a bit. They even supply a little bit of purified water, although obviously not nearly enough in and of themselves. Rotate them not only on the shelves, but also if you ever do have to eat them during SHTF, to balance out your dietary intake.
Pasta.
Everybody loves pasta. I use to stock up on italian pasta because it is made with durum wheat(grano duro) flour and this gives a longer shelf life. Pasta can be mixed up with almost anything to get a wonderful meal.
Dried fruit.
Dried fruit are not only good for their long shelf life but also for their nutritional qualities. They are a great source of potassiu, fiber and make a great energy booster due to their content of sugar.
Powdered Milk.
If you plan to have milk on your table after SHTF then you should stock up some powdered milk. It can be rehydrated to put on cereal, made into pudding, and as an add- into almost any kind of soup to make it a cream soup.
Peanut Butter.
 Peanut butter can maintain its freshness for up to two years and is the best source of energy you can find due to its high content of protein and fat.(be sure you are not alergic to peanuts)
Honey.
Honey is one of the best things you can store due to it's unlimited shelf life .Honey never goes bad and its properties makes it the most precious thing: is a good natural anti-septic, can treat burns(applied directly to the wound) and is a great energy booster
Rice.
White rice does store for longer than two years. Yes, it might smell a little old (due to the starchy covering it has but I'm presently using really old (10-15 yrs) rice successfully. All you need to do is rinse it well to remove the starch and voila…tasty rice. Also, you can mix a little of old and a little of new if you like. Wild rice does not have this same set of problems, because it is actually grass seed, not rice. Store whole non-ground grains, and a grain grinder of sufficient quality, instead of storing ground grains, flours, meals, or cereals that use processed grains.
Tip: I put all my Grains, Flours, Rice, Powdered Milk in the freezer for at least 72 hours to kill any eggs or larvae before I seal them in Mylar bags and then into buckets for added protection.
Pemmican.
Invented by the natives of North America, pemmican was used by Indian scouts as well as early western explorers. These people spent a great deal of time on the go and depended on having portable, high-energy, highly nutritious, and filling foods that would last for long periods of time.
Pemmican was light, compact, high in protein, carbohydrates, vitamins, and if done properly can last anywhere from a few years (decades) up to a lifetime without refrigeration!
Pemmican consists of lean, dried meat which is crushed to a powder and mixed with hot, rendered fat. Back in those days the natives made it with bison, deer, or elk but nowadays it is usually made with beef. Crushed, dried berries can be added as well.
You can find the recipe to prepare pammican HERE.
Biltong.
Biltong  is a great survival food. It has his origins in Southern Africa and it's a variety of dried and cured meat.Its shelf life can go up to 3-4 years.You can find out the recipe to make biltong HERE.
History has shown us many times that it can all fly away in a split of a second.The biggest misstep that you can take now is to think that this can never happen in America or to you!Call me old fashioned; I don't care…but I completely believe in America and what our ancestors stood for.They all had a part in turning this land into one of the most powerful countries in the world.Many died and suffered before a creative mind found an ingenious solution to maybe a century old problem. Believe it or not, our ancestors skills are all covered in American blood. This is why these must be fought for, protected, and handed on for them to do the same for our children and our children's children.Our ancestors laid the bricks and built the world's strongest foundation…that we are about to -irreversibly forget! I don't want to see our forefathers' knowledge disappear into the darkness of time…and if you care for your family…and what America stands for…then neither should you! Watch the video below and learn more:
If you have any other suggestions that you wish to add to the above list please leave a comment in the section below.
CHECK  OUR survival and prepping solutions
If you found this article useful, please like our Facebook page and stay up to date with the latest articles.
WHAT TO READ NEXT:
A RETURN TO THE OLD PATHS: HOW TO MAKE PEMMICAN LIKE THE NATIVE AMERICANS
20 LOST RECIPES FROM THE PIONEERS: WHAT THEY COOKED IN THEIR JOURNEY WESTWARD
SEVEN CLASSIC GREAT DEPRESSION ERA RECIPES GRANDMA USED TO MAKE
POTTED MEAT: A LOST SKILL OF LONG TERM MEAT STORAGE
BACK TO BASICS: HOW TO MAKE AND PRESERVE LARD
THE BEST WAY TO STOCKPILE VEGETABLES OFF-GRID
OLD FASHIONED PRESERVING-GRANDPA'S RECIPE FOR CURED SMOKED HAM
HOW TO MAKE GUNPOWDER THE OLD FASHIONED WAY
SURVIVAL HERBAL RECIPES FROM OUR ANCESTORS
OTHER USEFUL RESOURCES:
The 3 Pioneer Survival Lessons We Should Learn
The Most Effective Home Defense Strategies
Old School Hacks for Off-Grid Living
The Medical Emergency Crash Course
The Smart, Easy Way to Food Independence
How to Survive the Coming 100 Years Long Drought